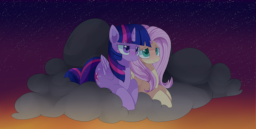 Source
With Twilight Sparkle still adjusting to life as a princess, Rarity becomes convinced she can help her friend by finding her a special somepony. And when that somepony turns out to be Fluttershy, awkward dates and adorable moments are sure to follow!
Cover art by mocha-creme (Thanks to OminousBrony for the suggestion!).
For a different take on the same characters, be sure to check out my RariTwiShy story, Our Lady's Courtship.
Chapters (24)