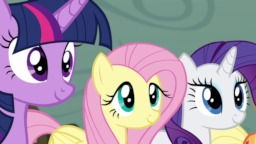 Source
Rarity has finally found the courage to confess her love to the mare of her dreams: Princess Twilight Sparkle. But once their relationship takes root, Twilight finds that her heart longs for another pony—her sweet friend Fluttershy. As a princess, she's committed to making everypony happy and comes up with a solution that she hopes might bring all three mares together, even if everypony else in Equestria disagrees with it.
This is a "What If?" tale based on my earlier story, Beauty, Books, and Butterflies.
Image credit belongs to Hasbro.
Chapters (14)