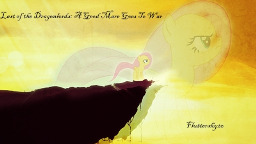 Source
This story is a sequel to Last of the Dragonlords
---
Fluttershy hoped she wouldn't have to take up her weapons for a long time. She hoped she could enjoy the time she had with her friends. She hoped she could live a life of peace and prosperity. That she could watch her friends be happy, get married, have foals, and watch them grow old, and be with them until the day they die.
She could never have been more wrong.
Now, nearly two years after she learnt who and what she was, she must take up her swords Firewing and Drage Bane and her wing blades once more, as Equestria is broken apart by a ruthless, determined, bitter, and insane enemy.
But how can she do that when her friends and loved ones have suddenly turned against her?
Sequel to 'Last of the Dragonlords'. (Not sure how well it works on its own, but informartion regarding the events of the first story is thrown through the story, allowing easier understanding to those who haven't read the prequel story.)
Cover art A by arkkukakku112 (Used with permission).
Rated Teen for violence. Some strong, but again not gory.
Chapters (17)