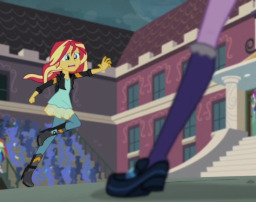 As the crowd cheers for the final event of the Friendship Games, Sunset sees the strange new Twilight Sparkle clutching her magical amulet. When she realizes exactly what Twilight intends to do with it, a gigantic train of emotions and memories hits her all at once as she desperately races to stop her -- even though she knows she's already too late.
Written from Sunset's POV in second-person. Violence tag for graphic description of physical transformation.
---
Written for Bicyclette's "A Thousand Words" contest and received Honorable Mention distinction!
Chapters (1)