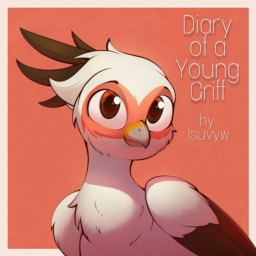 Matilda was one among many griffons sent as tribute after Equestria defeated Gryphonia in a great humiliating battle. There she is put to work the great boilers of Canterlot Palace from morning till evening, constantly providing hot steaming water for the day's use.
Making friends is difficult for Matilda, though she wants to try. Living life is harsh because she was a citizen of a disgraced nation, though she is proud of her heritage. Having ambitions is impossible because it would take a lifetime to earn her freedom, though she does not stop dreaming about it.
Until she begins to discover the power of Friendship and Harmony for herself.
Follow her as she writes about her thoughts, feelings, opinions, and wishes, in a simple journey of self-discovery, humor, and longing.
---
Cover art courtesy of RexySeven. Title added by me.
Featured on 18/2/2022! Thank you so much for your support!
Chapters (22)