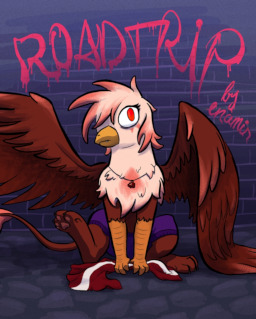 Source
"Baltics: Population 6 million.
This can not end well... And neither can my supposed mini-vacation. Like waking up not human wasn't enough, everyone I've ever known and loved are gone and now I'm all alone and three hundred kilometers away from an empty home. Did I mention I'm some weird lion-chicken now? Fun...
But no, it doesn't just stop there. When one trek is over it can only signal the beginning of another journey that'll take me halfway across the world. It doesn't help that I can't swim..."
What started as the story equivalent of a survival game took a hard turn into existentialism, the breakdown of the individual without society and the meaning of being good. The philosophy of a selfish, soulless, depressed nihilist that desperately wants to be alone, but not lonely, and the hell that is people assuming they know you better than you do. The Dark tag is there for a reason.
A Ponies After People story. All art by meeeeee.
Chapters (12)