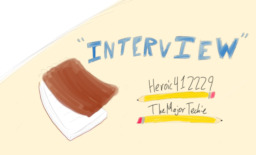 Gold Digger is a (totally not) lonely mare working a job she's about to be fired from. Her boss asks her to get one interview, or else she's fired. She... kinda does?
A collaboration with ya boi Tonkus, who also made the cover art that honestly wouldn't look out of place in a third-grade classroom.
An idea yoinked out of Bad Dragon's giant list of story ideas!
Chapters (1)