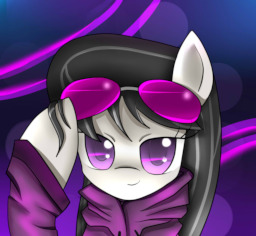 Source
Everypony in the club? Yes?
Good. On with the synthesizers.
Octavia, "Call me 8-B3AT", Melody runs the sound-desk; every night hundreds of expectant ponies lend her their ears and every night she delivers, her masterful hooves spinning complex electronic beats on the mixing boards of La Maison Nuit: Canterlot's most popular, and most exclusive, nightclub.
But tonight there's an extra pony in the club, a friend of the owner, apparently, but acting far from ecstatic. One morose mare taking in nothing more than scotch and soda is not something Octavia is ready to tolerate.
Between sets it's time to lift the shades, drop the hood and party down.
Nopony's going to be unhappy on her watch, and she took lessons from the Party Pony herself.
Oh yes.
---
CyanAeolin (on deviantart) is responsible for the wonderful cover art which was the inspiration to write this thing in the first place. And I must agree with him: Octavia is best pony.
Edit: Wow, front-page feature. Thanks for the support you guys!
Chapters (4)