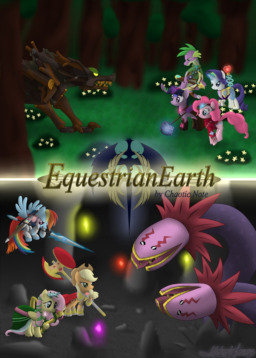 Source
[Eventually will be rebooted in a new story]
---
Rated [Teen] for F. Violence & Strong Language.
---
It's been ten years since she's been crowned princess, and during that time she's been rather... busy. Among moments of solving friendship problems and saving Equestria multiple times, she has destroyed the covenant, saved the Mushroom Kingdom and its princess, destroyed all the colossi in the Forbidden Land by the order of a sealed god, escaped Black Mesa, and many more heroic deeds. Yes, Twilight Sparkle can call herself a video game master of many genres. However, she never once touched the aspects of virtual reality MMO's. That is until she started playing Equestrian Earth. With a whole digital world before her, Twilight felt that her adventures in the MMO would be her greatest adventure yet.
However, this adventure may prove to be the most dangerous as a powerful entity and its legion of hackers have taken over the world. Twilight Sparkle must unite with her fellow gamer friends if she is to prevent herself from getting a game over not just in the virtual world, but the real world. Adventure awaits in a land filled with monsters, allies, quests, rivals, imagination, friendship, and magic.
This is Equestrian Earth, let the games begin.
---
Story Description Credits to Rated Ponystar [an immense help!]
↓If you haven't, read Author Notes down below↓
Author Notes:
Ω Editors: ugugg93
∞ Edited chapters will be marked by a certain number of *s, indicating how many editors got to it
Ω Proof/Pre-readers: RemareShadows and Apuppy120, ultra1437, Genghis, and Willow the Pegasus
Ω A World Map of Equestrian Earth (and Equestria)
∞ (Password is mlp.)
Ω Also as a side note: I came up with the idea in the shower.
------------------------
Past Cover Arts
------------------------
1st Cover Art: The Great Six by Boxanor
2nd Cover Art: My Little Skyrim by Atrixy
3rd Cover Art: The Bannermares (and dragon) by latecustomer
Official Equestrian Earth Cover Art #1 [Landscape] by Midnight Sonare
Current Cover Art:
Official Equestrian Earth Cover Art #2 [Portrait] by Midnight Sonare

Fic's Group
Equestrian Earth Hubnet

Reviews
Ω SLthethird's review
Chapters (21)