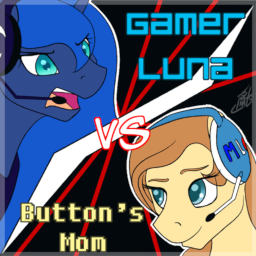 Source
~ This is a side story to Luna Plays...
---
It has been months since Princess Luna has discovered video games, and it has been months since she found somepony worthy enough to challenge her; to meet her skills equally in virtual combat. But alas, she has beaten thousands of millions of players around the world, and not one of them came even close to her score. Shooters: she would take them down like a firing squad. Platforming: she already jumped her way to victory in ten seconds flat. Puzzles: outsmarted those poor gamers. Casual: too easy. Role-Playing Games: she's the highest level.
To Luna, multiplayer in video gaming was getting a tad bit boring, and she was desperately looking for somepony that could match her prowess. So you can imagine the joy of adrenaline she received when she met Button's mom online.
Author's Notes
~ Editors: OmniBrony and ultra1437
~ TLATopHat was the one who drew the cover art. I just asked him for permission to use it. Make sure to follow him on Deviant Art and/or Tumblr if you have those.
- His Deviant Art page.
- His Tumblr page
- His Ask Pony Tumblrs: Ask Razzleberry Pie, Sketchbook Twilight, Equestria Declassified, and Ask Majesty!
~ Rated Teen for Strong Language.
Chapters (2)