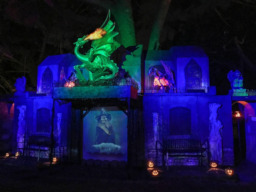 Rainbow Dash insists that Sunset Shimmer should try the new haunted house in the Equestria Land theme park.
Sunset doesn't see the point. After all, she's fought actual villains and comes from a world where dragons and monsters are just a fact of life. Cheap gimmicks and jumpscares hardly sound like her idea of fun.
But hey, if there's a chance to prove to Rainbow that she's not scared, what's the harm?
---
Written as part of a gift exchange for Flashgen.
Chapters (1)