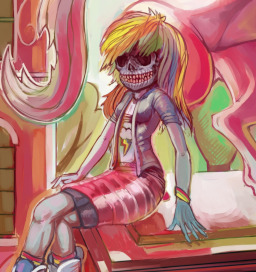 This story is a sequel to Something Sweet to Bite Too
---
Sunset Shimmer hasn't been sleeping well lately. She doesn't remember her dreams very well when she wakes, but what she does remember is always the same.
She's back in Equestria. Only Equestria is very different from how she left it. The Palace is deserted. The land is a bizarre, twisted, candy coated version of what she remembers. The night never seems to end. And there's something in the dark... Something that laughs and sings, but it's somehow more frightening than the bizarre landscape ever could be.
When Sunset is awake, it's the start of a new year at CHS. The Fall Formal is just around the corner, but she has other things on her mind. Will she discover the truth about her dreams? Or will Halloween bring with it tricks and treats that make her Nightmare Night memories seem pleasant by comparison?
---
Cover Art by kvernikovskiy
Chapters (23)