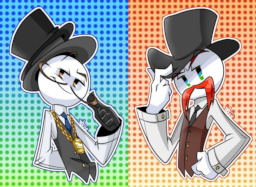 Mist lived in the middle of nowhere, her myriad of health issues costing her her special talent, her place in society, and eventually her magic. Mist has resigned herself to a quiet, sometimes painful, existence. Then an airship crashed into her house, and Mist found two reasons to maybe start caring again, a new home and new allies.
Reginald Copperbottom the leader of The Toppat Clan, alongside his Right Hand Man and the rest of the airship division, have been transported to a world not their own, the airship crashing in the process. They need to organize airship repairs and work to rebuild the Toppat's criminal empire in a new world. Fortunately, the pony that found them is willing to help and the Toppat Chief does see potential in her, of the mare she used to be. Can the clan help her be that mare once more?
Set in the same universe as Exploring the Castle.
17/11/2020- Featured??? Wow, thanks everyone!
20/11/2020- At the bottom of the Feature Box, go figure.
21/11/2020- This, is a thing now. My stuff is regularly featured now...
2/12/2020- Featured!
14/12/2020- Featured.
17/12/2020- Bottom of the feature box!
28/12/2020- Featured, neato.
9/2/2021- First feature of the new year, woo!
Chapters (17)