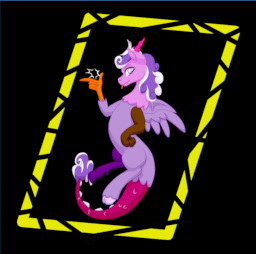 Source
Twilight is still trying to wrap her head around her coronation as sole Princess of Harmony, but the junior Anarch of Chaos is even more clueless than she is. Together they try rising to the responsibilities of their personal predecessors.
Screwball is hooves down the hardest horsey harlequin I've put pen to paper and picked to portray. Hopefully her dithering dialogue sounds suitably strange while still somewhat sensible, since her speech sits saddled with an awkwardly articulated alliteration affinity and a readiness for randomly recursive restless rambling.
---
This is an entry in the Snippet Series, an anthology of old oneshots I (and my good buddy Str8aura) wrote based around interesting pics I found. New ones will be posted every Thursday for the foreseeable future.
Chapters (1)