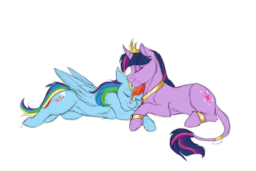 Source
Twilight Sparkle has a crush on Rainbow Dash, yet - in typical Twilight fashion - is unsure how to go about expressing her true feelings.
So when Dash tells her that she needs to talk to her about 'something important,' Twilight thinks that the pegasus may be hiding the same feelings as she is. She eagerly tells her to come to the castle later that evening, then rushes home to prepare a romantic evening for the two of them.
Could this be the start of a new relationship?
Chapters (1)