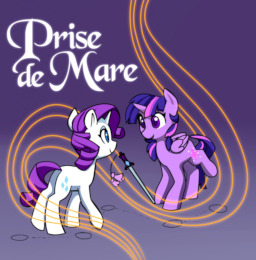 Source
Mares of many talents often find themselves in sticky situations. In Rarity's case, she must hold true to the promise she gave to Princess Twilight Sparkle. It never occurred to her that she may be required to forcibly defend her position as the princess' companion, but it's of little consequence. A promise is a promise, is it not?
This story was written for Monochromatic's RariTwi Bomb! Master list of content HERE, and Cynewulf's contribution HERE
---
Cover art is by the talented and dedicated lilfunkman, to whom I owe many thanks.
Shoutouts as well to MrNumbers, Undome Tinwe, AppleTank and a few too many others for their advice and feedback!
Chapters (1)