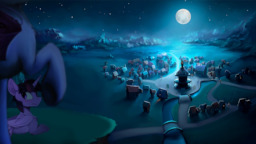 Source
Busy as they all are, Twilight Sparkle always makes sure to carve out a bit of time from her week to spend with each of her friends, and they all do the same. That's what friends do: make time for each other.
So why do her evenings and early mornings with Rarity feel so much different?
---
Rated Teen for light alcohol use.
Cover art is a hasty composite of three different pieces. Credit to L1nkoln, Yakovlev-Vad, and Hioshiru.
---
This story is part of the First and Only Raritwi Bomb. A week's worth of stories and art all centered around Rarity and Twilight. If you liked it, the previous story posted is A Game of Chess by PrussiAntique, and you can find a master list of all Raritwi Bomb content here.
Chapters (1)