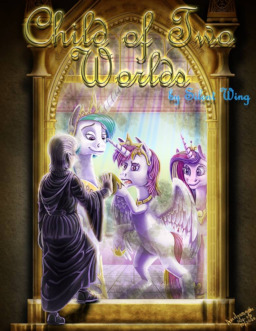 The mirror Nerhegeb is known to be dangerous, for he is able to shows us, what our heart desires the most. But unknown to everyone, he is capable to so much more. With most of his hidden features forgotten over time, it shouldn't surprise anyone, when one of them is activated by accident.
One of those would be his ability to change into a portal to a place where your wishes could be fulfilled, should you ever get scared, while looking into it. But this portal opens only, if your wishes are innocent in nature.
This is exactly what happens, not long after Draco discovered the mirror in an abandoned classroom.
Rated T just to be sure
Nametags will change as the story continues
Made it into the Featured box for the first time on 29.11.2020.
Honestly, I never expected this to happen so thank you, all of you.

Once more big thanks to rikithemonk for his great help with editing this story until Ch.09.
Big thanks also go to Javarod who took over edditing from ch. 10 onwards.
Cover art done by the amazing Mix-up. You can also check out his art on Deviantart and on Youtube.
Chapters (13)