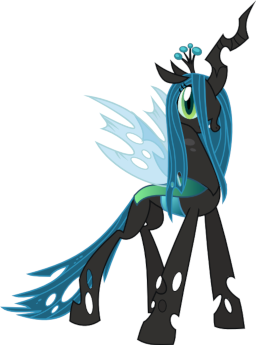 Source
Another Harry Potter crossover fanfic (in general; it's actually my first one.) This time, however, I'm giving Harry to somepony a little less scrupulous.
---
Chrysalis had been planning for the attack on Canterlot for years.
When she wanted to relax, she would walk through an odd portal that led to a world unfamiliar to her.
It was during one of these walks that she stumbled upon the blood wards of #4 Privet Drive... and the negative emotions of one Harry James Potter.
Upon the further investigation she had ordered, Chrysalis discovered the true depths of these emotions.
She also ended up linking Harry into her hive physically and mentally. A whoopsie for most, but for Chrysalis, it presented a chance to give a better life to Harry.
The only downside was that she needed to rethink her plans to include Harry.
The Wizarding World shall beware Prince Harry Chrysalia...
---
The cover image is a DeviantArt picture from seahawk270. Go support the original creator!
Chapters (2)