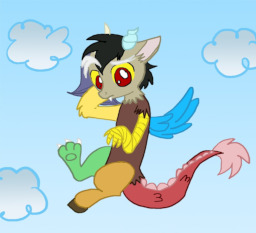 Source
Leo had just turned 16 and passed high school, he had a life that you can consider ordinary. But one day he dreamed of a creature who was better described as outright bizarre, also having a strange and questionable sense of humor. But he just shrugged that aside.
An error on his part, as the creature who named himself 'Discord' suddenly pulled him into a world he had never seen before and with a body that was similar to his, and what did he mean by himself being an apprentice? What the hell is going on?
And why do the people all look like colorful horses?
---
The artwork's are not mine! They belong to their respective owners.
Chapters (2)