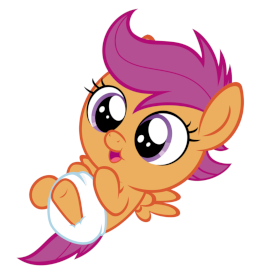 Source
(Dedicated to Matt11. Proofread by Smity91 on FanFiction.net, and proofread and edited by deadpansnarker on FiMFiction.)
When one is the child of daring adventurers like Snap Shutter and Mane Allgood, it's natural to aspire to be just like them. At least, that's what Scootaloo thinks. Her parents aren't afraid of anything, and neither is she.
Well, except for one thing. A fearsome, frightening creature that lurks not in some far off jungle or forest, but right in the foal's own bathroom: The potty monster. And they say it eats foals.
When Scootaloo decides she's finally sick of being scared of the porcelain beast, she embarks on a daring crusade to conquer her fear once and for all. If her parents can tame such a great beast then so can she, right?
Chapters (1)