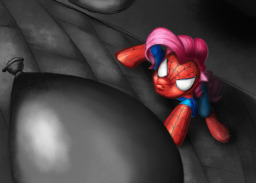 Pinkie Pie has a secret. A secret that no one knows about.
For you see, Pinkie Pie is not a normal pony. Unknown to all but Pinkie herself (though she was not aware of it at first), a bite from a radioactive spider gave her super duper spider powers. But Pinkie Pie ultimately learned the hard way, that with great power, comes great responsibility.
And so, Pinkie Pie vowed to use her powers to defeat crime and corruption. And the superhero known as Spider Mare was born!
In this exciting first issue, you'll witness the birth, and rise of the web slinging mare. Watch as she valiantly defends her hometown of Ponyville from evil villans big and small. See her battle with villans all across Equestria!
Along the way however, she'll have to come to grips with the limits of her powers, and her personal failures.
(Secondary tag: Action! Can't have a superhero fic without action.)
Edit: April 3, 2014. Story updated with new cover art. Cover image created on Deviant Art by Erudier. Canon when published in 2014.
Chapters (10)