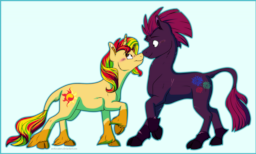 Source
Back when she was a filly, Tempest made the decision to run away from her home. Away from those that loved her. And, unknowingly, began a path of harm and ruin. Now, years later, Tempest has achieved what she never thought possible. She's in a wonderful relationship and is surrounded by close friends. And, most importantly, she thought she had finally escaped her past.
However, during the annual Hearthfire visits for Hearth's Warming, she's suddenly asked to return to Wintertide village, the place of her birth. In just under a week, she has to make a choice. Face her past.
Or sacrifice the present.
---
Written for the Sunset Shimmer Shipping Contest: Journeys.
Cover art is drawn by Arctic Waters and can be found here!
And thank you so much to adgerelli and Krickis for helping me proofread this story!
Chapters (4)