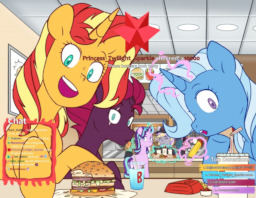 This is a one-off story to my main series Reformed Unicorn Group Podcast
The RUG decides to give streaming a live lunch at Twilight's favourite place to eat a go, ready to try something new for their fans and followers from their podcast series. However, this will be a meal no pony would be expecting.
Inspired by the artwork RUG IRL Stream by Doodle-Mark on DeviantArt.
Chapters (1)