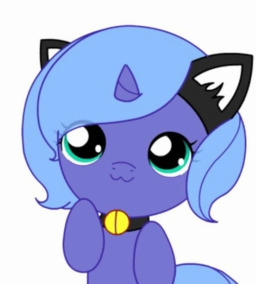 Source
What's the worst thing you can do to a masochist? Tie them up and refuse to hurt them. What's the worst thing Celestia can do to a horny, kinky little sister who's harassing her when she's not in the mood? Well, it turns out Celestia has a stash of suspiciously appropriate kitty gear on hoof, and some time as a pet is just the punishment Luna needs.
Cute, silly, a little bit sexy, but not a clopfic. (Contains no sex.) This story will be some people's perfect catnip, but not everyone's cup of tea.
This story was commissioned by Cynewulf.
Chapters (1)