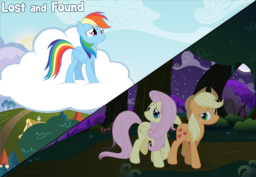 Source
Applejack had long since taken the Hearth's Warming Eve story for fact. When she and Fluttershy find themselves in an untamed wilderness, they'll learn that not all history is preserved. In their struggle to find their way home, the two will unearth secrets unknown to any living being, pony or otherwise.
Half a world away, the others have problems of their own. As Rainbow Dash struggles to discover exactly what she is to her oldest friend, Twilight must face the stunning truth about her long-time mentor.
In the end, what is lost, and what is found?
Chapters (35)