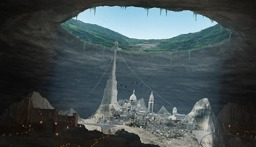 Years ago, Daring Do discovered an ancient city, forgotten in one of the farthest reaches of Equestria, and within it a mysterious lock that could not be opened by a single pony alone. Frustrated and eventually defeated she was forced to abandon her find, willing time to absolve her of her failure.
Not too long ago, she met a pony named Rainbow Dash. A pony who helped her.
Now old memories are rekindled when Daring learns that a longtime rival has uncovered the city's location. Forced into action, she sets off on a race against time to beat her competitor, and finally learn the secrets it undoubtedly holds. But this time, she'll succeed where she failed all those years ago. This time, she'll have help.
Chapters (19)