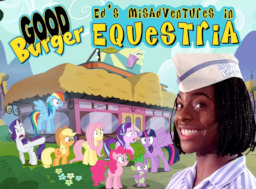 "Welcome to Good Burger, home of the Good Burger. Can I take your order?"
Ed was mopping the floor during closing time at the Good Burger until he was accidentally teleported to Equestria by Twilight due to her failed magical experiment with her Crystal Mirror. While Twilight tries to figure out how to send Ed back home, Ed spends his time working at the Hay Burger as a volunteer and befriending all of Twilight's friends. Whether they want to or not.
Meanwhile, a certain group of ponies is dedicated to try to dethrone the Princess of Friendship and find out the secret of how Ed was brought into their world.
---
Main MLP:FiM x Good Burger Crossover Story!
I also did a short side story called Can I Take Your Order? Be sure to check it out!
Character Vectors Made By:
itv-canterlot for Twilight and Rainbow Dash
SpellboundCanvas for Applejack and Starlight Glimmer
Tardifice for Rarity
Togekisspika35 for Fluttershy
SniperNero for Pinkie Pie
Spyro4287 for Spike
And the rest of the cover is made by me.
Chapters (9)