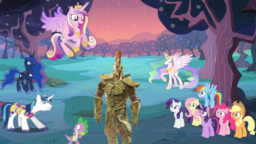 This story has a sequel: Achieving Divinity: Dragon's Deception
---
(This is a Divinity II crossover but you won't need to have played the game to understand this story so please just give this a chance if you haven't. Watch the trailers for Divinity 2 if you want to know more or read the wiki page if you prefer... I'm basically making this the fourth installment in the series of actual games. There was Divine Divinity, Beyond Divinity, Divinity II: Ego Draconis/The Dragon Knight Saga AKA Flames of Vengeance and now my story: Achieving Divinity. Set a few months after Divinity 2: DKS for those who've played the game.)
---
Damnation! How the hell did this happen? This is worse than when the others told me we had to eat soil three times a day to survive, but we didn't do it In front of the young recruits so as not to discourage them...
Ah well, I suppose I should introduce myself first of all, that is the polite way to do things yes?.
My name is Dra- Err... Tyrath, Tyrath Kyelinth. It's pronounced Kai-linth just so you know, but I don't mind. If you have your own pronunciation for it, go right ahead.
...
Anyway, enough of that, my name i- Wait I just went over this! Sorry, I got confused for a second, that tends to happen when you've got a thousand things on your mind at any given time. Moving on this time... No for real, I won't forget this time. Do you ever find yourself in an existential quandary? Wondering just what the hell happened and how you got there in the first place what certain things you could've changed to avoid this exact situation? I know I have...
I saved the world more than once yes, but what about myself? Can I save myself? I was 19 at the time, it's now a year later and I never found time to work on myself.I don't know who I am or what my end goal is. I wonder about myself sometimes.
Then again one of these particular moments happens in every beings life at one point usually. So. Here I am. At the start of my new story.
Let's begin, shall we?
Chapters (13)