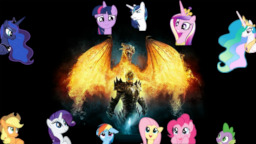 This story is a sequel to Achieving Divinity: A New World
---
(Slight M rating warning: Sex. and a bunch of fucked up fetishes. Chapters will be marked with an [M] at the start, and the A/N of said chapters will contain a warning. There may be some chapters containing 'A Slice of Life'. Chapters will be marked with [SoL] at the start.)
So... Here we are. Again. My story ended on a cliffhanger last time, yes? Well, here I am to continue it. I'm not quite dead yet... Or am I? I could be for all I know. Maybe I'm here as my Heaven or Hell? Or purgatory? Am I in Purgatory? Ah, thinking thoughts like this doesn't help.
So... I left off with Erlking chanting a spell and me being thrown through a portal... Right? Yes, right. Ahem.
I think at that point, my life took a major u-turn straight to Tartarus. But me being me, I decided to sit back and enjoy the damn ride. No point fighting what you can't control, right? WRONG! I WILL PUNCH DEATH IN THE BALLS IF HE COMES ANYWHERE NEAR ME! Ok? Ok.
Just to be clear, I am not afraid of death. No far from it. Hell, I'll head right into it and I'll even pay the toll. I will even enjoy the ride there, but I will fight to prevent it.
Huh? Then, what am I afraid of you ask? Well, read on and find out what a God is scared of... Hmm? I'm not a God? Nope, you are correct. But I may as well be, right? I need my self-esteem or else I have nothing.
I know I am not a God. I am not perfect. I'm the farthest thing from it. But I strive to be good. To help the innocent and the helpless. I have been hailed as a God before for my deeds back in Aleroth.
If not a God, I strive to be a Saint. This isn't Rivellon. I'm no God. I'm just an alien. A foreigner in a hostile and unfamiliar place, right?
ANYWAY. Enough rambling, let's continue shall we?
Chapters (30)