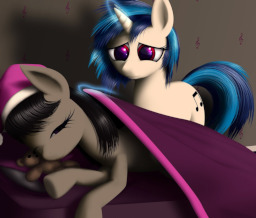 Source
Vinyl and Octavia have been together for years now and every day is the same. By chance, Vinyl realizes she misses the way she and Octavia used to be. Obviously, this can't stand, only question is, who will be the first to fix it?
Short, sweet, and fluffy shipfic with everyone's favorite musician pair! For the purposes of this fic, Vinyl is not mute.
Cover art used with permission from Strandedpenguin. You should give his gallery a look-see if you enjoy art of the musical pons and AJ building an Ikea product.
Chapters (1)