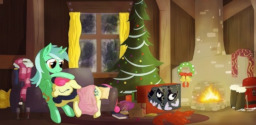 Source
It's that time of year again, Hearth's Warming Eve, and Lyra's excited as she can be. For it's not just the time for giving gifts, it's also the time when she and her beloved Marefriend Bon-Bon celebrate their yearly anniversary of being together as a couple. And as always, they get each other gifts to celebrate it. One problem. Lyra hasn't the slightest idea on what to get her Bonny as a present. Like seriously, not a clue. Thankfully, there's always her old friend Octavia to provide a helping hoof or two. Will these two fellow musicians find the perfect gift, or fail entirely...?
LyraBon shipping and Lyra/Octavia/Grape Vine friendship. Takes place in the same universe as my stories "Dash's Worry, Twilight's Reassurence", "The Wonderbolts Calendar (AKA Posing Ponies)" and "Of Griffins, Ponies, and Taboo Subjects".
Rated teen for light make out scenes and sexual jokes.
I don't own the song lyrics used here. They belong to their respective writers. If I did own them, would I be stuck here?
Chapters (1)