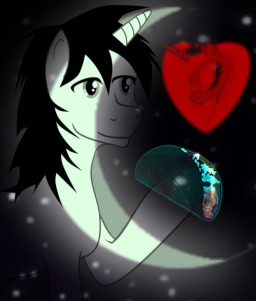 Moosetasm the OC (wrongfully called a Ponysona by many) learns of the tragedy of Princess Luna being trapped, crying, on the moon for 1000 years, and pledges to remedy this gross injustice. He recruits Sonata Dusk with the promise of unlimited tacos, uses her siren powers to break the laws of time and space, forges an alliance with the changelings based on shared love, and battles the incessant Communist threat of Starlight Glimmer, the only pony standing between him and victory. Oh, and somepony is wearing diapers. Just because.
---
Special apologies to Miranda Laufeyson for inspiring the world's first "Sonata-Dusk-taco-diaper-changelings-need-love-too-Poor-Luna-on-the-moon-Starlight-communist-OCs-are-ponysonas" fic, and the semi-authorized use of her OC, Florian.
Special thanks to Coffee Minion for inspiration, editing, cover art, and use of his OC, Nutmeg.
Rated P for Purple
Now comes in reading format! Also thanks to Coffee Minion for this!
Chapters (1)