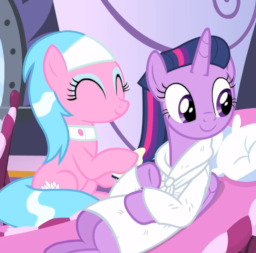 Source
Since taking over for Celestia, Princess Twilight has learned how stressful it can be to rule a kingdom. Especially around the holidays. Sometimes a mare just needs time to herself. But... what could be even better? Spending that time with an old mentor, of course!
But... who will run the kingdom while Twilight is out?
And what might happen while she is gone?
Surely nothing could happen due to a single day of clandestine self-indulgence, right?
RIGHT?!
---
This was written for MeowofyMLP as a part of Jinglemas 2020!
Chapters (1)