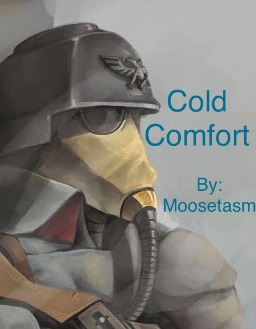 The ice-world of Arctinus Septimus stretches the definition of "habitable," with a surface temperature averaging negative forty degrees centigrade. Even in a galaxy of endless war, it's a lousy place to be sent on a rescue mission. But when a crack team of would-be rescuers finds the planet's Imperial outpost abandoned, the heating units inoperable, and their escape route cut off, just one thing can help them survive long enough for extraction:
In the Grim Darkness of the Far Future, there is only Snuggling... with Ponies.
---
This was written for Categorical Grant's Cuddlefic Contest.
Prompts used: ALL
Spoilers for certain parts of the story, fair warning:
Prompt A: Cameo by Wave function: You can't miss it, he is called out by name. He's the corpsicle.
Prompt B: Story has medical themes: Everypony is at risk of hypothermia; Tracks gives some medical know-how on ponies; Trauma's leg is broken and he discusses the splinting and the procedures to be done afterwards.
Prompt C: Luna falls hopelessly in love: You cannot miss this part. It's the part with the Royal Canterlot Voice in full force.
Prompt D: Obscure joke about Amareican Military History: The Battleship Maine inexplicably exploded off the coast of Cuba in the late 19th century, the cause was never discovered, and it precipitated the Spanish-American War. I reference the Battleship Mane Exploding.
Prompt E: "Am I being detained?": Point says this when Fray is snuggle restraining him.
Prompt F: "Big... if true": Point says this when the team approaches the shutters.
Prompt G: G Alliteration: I do this multiple times: when Nutmeg goes to help the "group's grunting, grumbling grenadier"; when Owly gets "'going,' he gasped, gritting his teeth as they galloped into a sudden gale which gusted and ground against them like a ghostly, gnashing giant"; also "grotesquely gigantic grinding gears."
Prompt H: Spike wins epically: Saint Spike the Dragon; need I say more?
---
Thanks to my pre-readers: Kai Creech; MisterNick; and Final fantasy forever. I was having issues with the tags and these guys helped me big time.
And, definitely many thanks to CoffeeMinion for his editing Prowess. As always he comes through with excellent suggestions and puts up with my oddities.
Chapters (1)