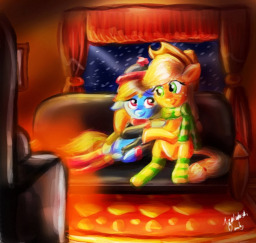 This story takes place around the time of the final scene in the show, so we have Big Princess Twilight, everyone getting on in age and are in or just past their primes, etc.
---
Applejack has chosen to be alone on Hearth's Warming because she doesn't have a special somepony to spend it with, and doesn't want to rub everyone else the wrong way.
Just as she's about to settle in for a long winter's nap, Rainbow shows up and they both decide to find solace in each other's company.
Fine, it may have become a ship-fic at the end.
---
Written for SnowOriole for Jinglemas 2021
Happy Hearth's Warming!
---
Cover Art is by Death is Death.
Chapters (1)