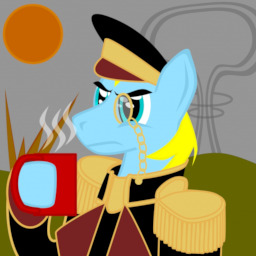 Caffeine withdrawal can do terrible things to a pony.
Even in the Grim Darkness of the Far Future, where there is only Epic Pony War, and an eternity of (s)laughter, clopping, and the gnashing of feasting trolls… few horrors can compare to what Lord-Commissar Nutmeg of the Equestrian Guard would unleash upon anything impeding his quest for a morning cup of recaf.
To be a pony in the 41st Millennium is to live in a regime that declares itself 20% cooler than any other imaginable, as mighty battle-fleets cross the hate-infested miasma of the dimension of the Everfree in the name of the Alicorn Princesses. And yet, it is a regime where both magical and scientific knowledge have dwindled during the Royal Sisters' long confinement to the Equestrian Throne, an arcane relic from the Age of Harmony, where a thousand cakes are sacrificed every day so that They may never truly die.
But to stand between a pony and his daily caffeine-fix is to forget all hope of peace and understanding, and to face the full might of the Royal Sisters' inexhaustible armies: the Space Mareines, an elite cadre of bio-engineered super equines; the Equestrian Guard; their numerous comrades-in-hoof; the ever-vigilant Alicorn Inquisition; the tech-ponies of the Equestris Marecanicus; the—
+++Error, code corrupt, purging data feed+++
+++End Transmission+++
---
Many thanks to CoffeeMinion for both inspiration, editing, and the gratuitous use of his OC, Nutmeg.
Chapters (11)