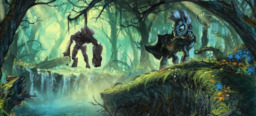 An ancient evil has awoken. Heroes have been summoned. The creature that was born for the sole purpose of destroying the ponies and the four heroes who must work together to destroy it, must fight once again.
The first, with strength and forethought, lacks sight and speed.
The second, with speed and sight, lacks solidity and independence.
The third, with strength and solidity, lacks sight and freedom.
And the fourth, with sight and speed, lacks independence and forethought.
Each has their own strengths and weaknesses. Only together can they truly become legends.
That is… If they can work together.
Rated teen for mild gore in a later seen and action/fighting.
My attempt at writing an adventure novel.
Please keep the comments clean my little sister reads them.
Link to artwork (cover edited)
Chapters (22)