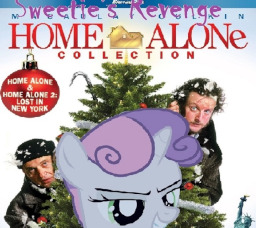 We all know Sweetie Belle is incredibly clever, but how will she handle herself when everypony leaves her alone by accident?
And on top of that, add in two pony burglars who are bent on stealing Ponyville blind.
Unknowingly I wrote this story on the twenty-fifth anniversary (year) of the making of Home Alone. So happy anniversary!!
I really appreciate any constructive criticism. But please keep the comments clean.
Also, for all reading this on the month of it's publication, Merry Christmas, Happy Hanukkah, Joyous Kwanza, Season's Greetings, Happy New Year, Happy Hearth's warming and... Happy... Boxing Day... I guess.
Chapters (8)