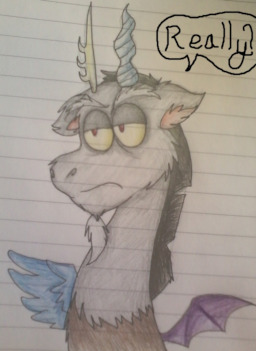 Source
Dear Anthony Nones the human,
We at Oddities Anonymous would like to cordially invite you to one of our get togethers this coming Friday, July 23, to sit in on one of our bi-weekly meetings. Oddities Anonymous is an exclusive club Oddities Anonymous is a support group created by and consisting of beings throughout Equestia that have great difficulty blending into pony society simply because of who or what they are. It is designed to bring together and empower those who have felt neglected or estranged by ponies in a friendly, nonjudgmental environment
If you would like to come and join us for some fun! one of our bi-weekly support meetings, please come to 1504 Moonlight Lane at 9 pm on Friday, July 26.
And yes, I am talking about the house that looks like it's about to fall apart that is currently under renovation.
Anyways, that's about it! Hope to see you there!
Love, Fizzle! <3
PS - This weeks password is "Fizzle is delicious!"
---
Possible Dark Tag

Fizzle is not a dragon jsyn
Trigger warnings: bad ocs, bad puns, bad writing, trigger warnings
Cover Art by xXSonyTheCatXx on Deviantart
Inspiration for this a to me few days after reading The Curse so you could probably take a wild guess as to who Fizzle is.
Side note. This is going to be a weird fic, and right now don't entirely know what direction I'll be taking it. And since I a good writer am not, if anyone who's actually a good writer wants to take this idea and use it for them self they are perfectly welcome to.
Chapters (13)