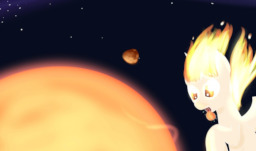 Source
This story is a sequel to Twilight's Diet
---
It's been six weeks since Twilight started her diet. She's been getting results, but she absolutely HATES being hungry all the time. Her thoughts keep drifting back to the episode with the Metabolism Potion, and she desperately wishes she could re-experience what happened, or even better, pick up where she left off.
If only there was an immortal being that was in charge of such things; one that happened to be indebted to her, or something. Perhaps she might then be able to enlist their help in making that desire a reality.
Too bad there's nopony like that.
Wait.
Picture by Cosmonaut.
Chapters (1)