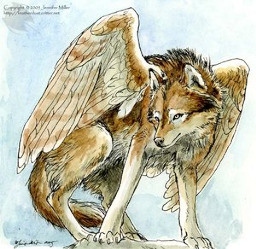 Source
Sup, the name's Mark. Or was Mark, anyway that's not to important anymore. Just know that while I lived on Earth, I was constantly under pressure to follow the rules and fit a mold that didn't fit well with me. My life was constantly controlled by a system I despised.
Well since getting sucker punched into Equestria by a goddess those days are over. Being the one and only Winged Wolf in the known world is a huge help to being able to make my own rules. I'm finally free to do what I want, when I want, and how I want and that's exactly what I'm planning on doing.
Set in the same universe as The Ballad of Echo the Diamond Dog and Griffin the Griffin.
-------------------------
I did get permission from both Rust and BlackWing to use the same setting as their characters. Go read both of their stories. They're awesome. Reading them is what made me want to write this story in the first place, so if you liked this, you'll fall in love with those stories.
Added the Dark tag just in case. There will be a decent amount of violence later on. Will add character tags as they become important to the story.
Chapters (22)