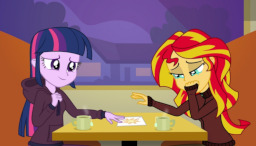 Source
This story is a sequel to An Open Door
---
After receiving a request from a rather unexpected source, Twilight helps deliver a long-overdue message from Celestia to her former student.
This story is set one month after An Open Door, which itself occurs about six months after Rainbow Rocks.
It's not required to read Open Door first. Just go into this story with the understanding that the Dazzlings have started to befriend the others, and have come to realize there is some joy to be found in their new life-after-magic. If you're interested in how that went down on this timeline from Adagio's perspective, then Open Door is the place to check that out.
---
Cover art is my own. You may have seen it here already, as another author had created a story based on it some time ago. Drawing this piece is what got me interested in fanfiction. So now that I've had a taste of writing with Open Door, I've decided to come full-circle and write something for it myself.
Pre-reading and brief creative input from Jondor (thanks, man)
Editing, proof-reading and additional input from Csquared08 (I made some small tweaks after the final edit pass, just recently. So any typos are my fault and not something overlooked by C. ;)
Chapters (3)