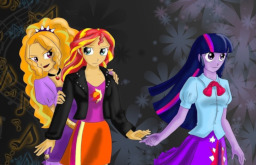 Sunset Shimmer has fallen from grace. After her humiliation at the Fall Formal, she now faces a long road to redemption.
But it's not easy, most of the others refuse to accept her, and new enemies threaten to drag her back into darkness. Can she find her way to the light?
EDIT: Well how about that. Hit the featured box as of January 4th, 2018
EDIT 2: Will wonders never cease? Featured box AGAIN as a February 16th. I'm sensing a theme here.
Chapters (7)