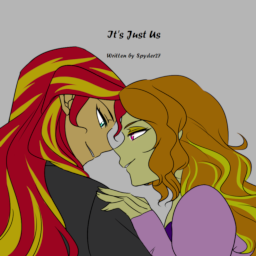 Source
At the age of 29 years old, Adagio Dazzle is far from content with her life, but she's required to go to a work convention that is placed back in Canterlot City. The only problem is that she's been trying to avoid Canterlot City for some time now. Anxious and nervous, Adagio convinces herself that nothing bad will happen and that she will try to enjoy her trip, until she runs into a familiar face. Their combined past is enough to ruin Adagio's trip, but the question is will she let it?
=====================================================================
This story is a birthday present to my dear friend, Mon668! I worked pretty hard to make this story as emotional as possible and I worked on it while I was sick, so I hope everyone enjoys this story! This story does contain mentions of depression and alcohol, so you've been warned. This is not connected to any of my other Sundagio stories, so treat it as its own thing~ Please wish Mon668 a happy birthday if you have the time and enjoy the show!

Chapters (4)