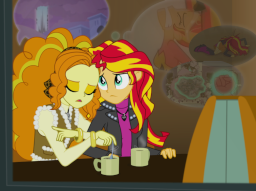 Source
This story is a sequel to Messenger
---
Sunset Shimmer has found herself spending a great deal of time with the Dazzlings as of late, as they adjust to their new life-after-magic. Though, considering what the four of them used to be, does she really know Adagio as well as she thinks?
---
A big thanks to Bookish Delight for collaborative help with vetting my ideas, supplying a few, authorial advice, editing, and general encouragement throughout the process here.
And thanks, as usual, to Csquared08 for additional pre-reading and some brief technical input.
Teen for occasional language, alcohol references and light intimacy.
Chapters (5)