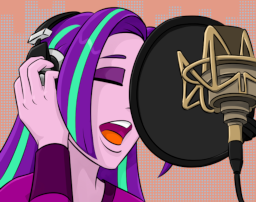 Source
Broken magic. A broken home. Three once-Dazzlings still live under the same roof, but drift apart as the weeks following their defeat pass on.
One spirals downward. Another moves forward. And Aria collapses inward—to her head full of dreams, held down by a shattered song and doubts of her own self-worth.
One night, an unwelcome voice finds her and leaves her with a choice to be made.
---
Thanks to Bookish Delight and Jondor for pre-reading plus feedback.
Big thanks to Holy for editing and critique.
(And uh... thanks to Csquared08 for comma police. Don't laugh. It's more of a thing than you might think.)
Cover art is my own.
As a note: This story's timeline is not in continuity with my others. Think of it as an AU to Open Door.
Chapters (4)