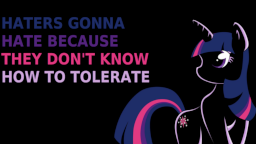 Source
What happens when someone who doesn't like My Little Pony ends up in their universe and is stuck there? Basically, a lot of freaking out, swearing, and irresponsible things... Who would have guessed?!
Rated Teen for language and sexual themes. Also for Brony Hater language.
I do NOT agree with any of the language references. They are all used in a fictional sense and do NOT portray any mindset of my own.
Also, if anyone has a better cover image... please share! ^^;;
Chapters (15)