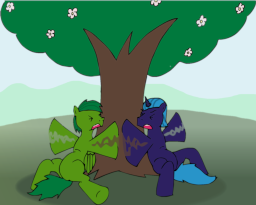 He is a college drop-out part-time worker. He is a dentistry student. Together, they are two total twats with no ambitions to go further then the next game, comic book or puff.
And now, they are ponies. Under the names of Lucky Chance and Midnight Watch they must find a way back to the human world using their extensive knowledge of the television show, the Laws of Narrative and sarcasm.
Will they be able to rise above themselves and face the many challenges that await them? Will they be able to figure out the true meaning of Friendship? Will they be able to not murder each other or themselves while doing so? Do they even want to go back?
Cover Image by CenturionFox13. Proofread by Letedwend
Chapters (10)