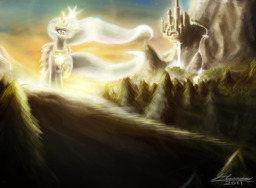 Source
When Twilight is dragged through the maw of some... thing, Luna, Shining, and the rest of the Mane 6 begin to figure out a rescue plan to help their friend. What they don't expect though is something altogether unique, different, and bizarre...
US!
McCarren, a human 'scientist', soon shows Twilight all about our world, but will we be able to stack up to what Equestria has to offer? And even so, will Celestia even allow this knowledge to be exchanged?
=====================
-----CHALLENGE STORY-----
I took up the challenge to write a story where the main focus is all about comparing both the culture and technologies of Equestria and our world, and yes, OUR WORLD. I had a bunch of people saying how no HiE or PoE has us technologically or culturally right/superior to Equestria.
Well, I think we will just see about that, hm?
This story will be trying to portray the most realistic version of the human and pony worlds interacting. I'm not saying its going to be perfect, but I will be trying my best!
Also... if ANYONE can find me a better image, PLEASE TELL ME! DX
Chapters (3)