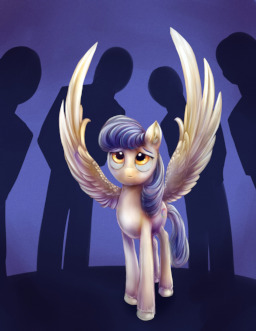 Earth and Equestria collided and only the elements of harmony could save the day.
That was a month ago; now over a hundred former humans have to make the best of their new lives as ponies. Alexis Kingston was a twenty two year old telemarketer, and rather surprised to find herself a pegasus and the head of the Humans in Equestria Club. She never wanted to be a hero, just keeping the new ponies sane would be challenge enough, but with the barrier holding reality together leaking yet more humans on a daily basis, ancient evils and modern technology probing for weaknesses and the end of two worlds looming, she may have to be.
With thanks to Luna-tic Scientist, Lord of Dorkness and Thornwing for help with pre-reading.
Proudly part of Twilight's Library and Tag-a-long's Book Club


[img]http://i.imgur.com/6MrWqNZ.png[/img][img]http://i.imgur.com/X4NpPxt.jpg[/img]
Chapters (19)